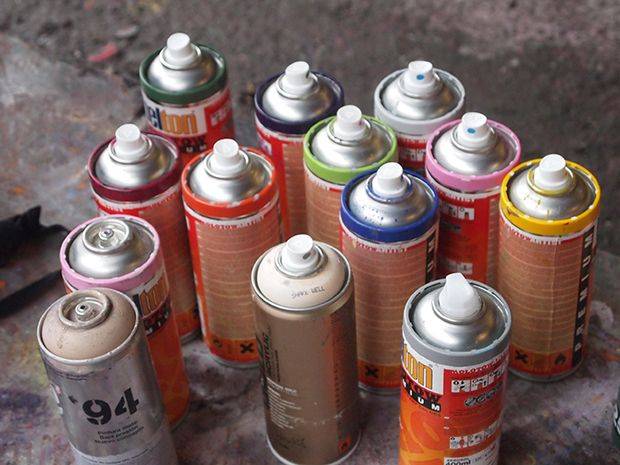 17 Feb

Graffiti team building workshop

Professionnals, London Incognito offers you a large range of team building and incentive activities.

Amongst the fun and stimulating activities, the introduction to graffiti is one workshop that releases artistic potential and encourages communication and teamwork.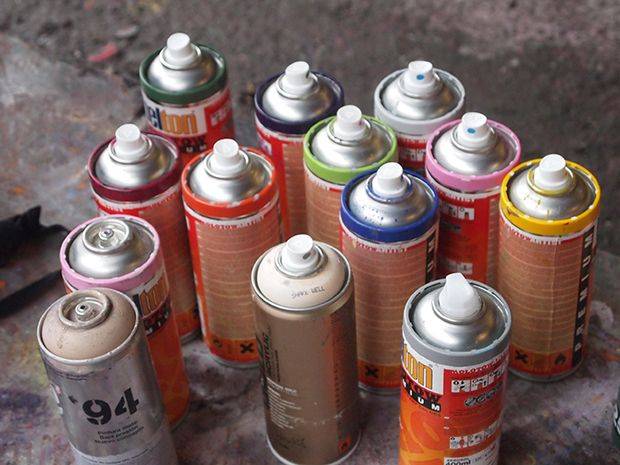 The activity usually lasts 2 hours. The first 45 minutes are always spent with the tutors teaching tricks and techniques so that the participants quickly get to grips with the medium, before creating their own masterpiece on the on-site wall. The artists will take the group through an introduction to graffiti, how it started and what graffiti means today. This would be followed by an introduction to spray-painting, from how to hold a spray-can to how to draw a line, a circle and a square onto a practise board provided by ourselves.
We then have a few different options:
Battle  : Group is split into teams who choose a team name or word to paint with our guidance. (Tends to get rather competitive!)
Company Specific : Group works collaboratively to re-create company branding or a word / phrase
Stencil workshop : Incorporates ideas from the company specific workshop, but guests will create something to take away with them at the end of the session. As with a standard workshop, the first half is always spent with our tutors teaching tricks and techniques. Each team member gets to take away their own piece of stencil artwork on a canvas that looks amazing.
Clothing workshop : We will help the team customise Tshirts with stencils and spraypaint.
Towards the end of the session, everyone will get the chance to create thei own personalised canvases or t-shirts using stencils and spray-paint.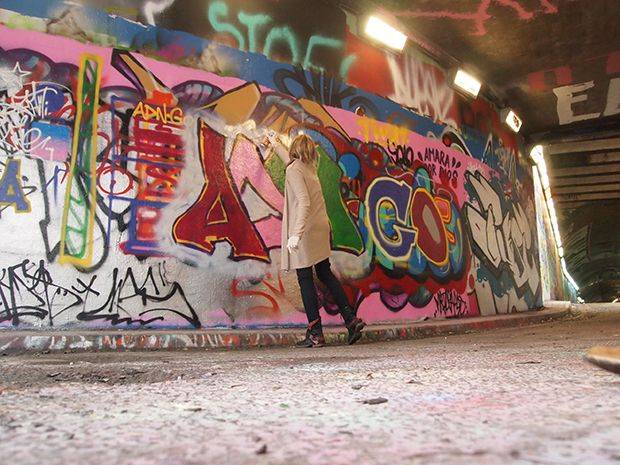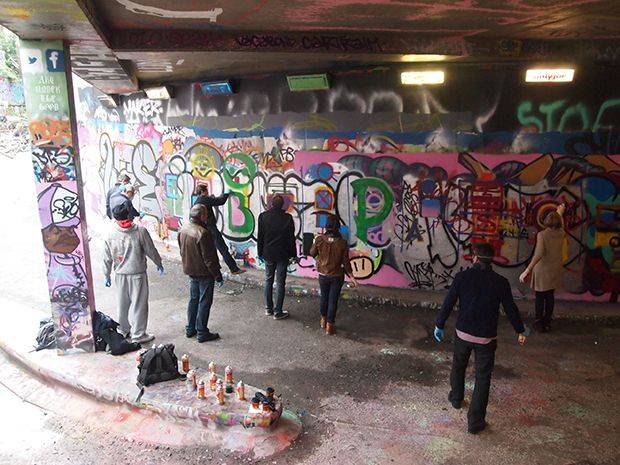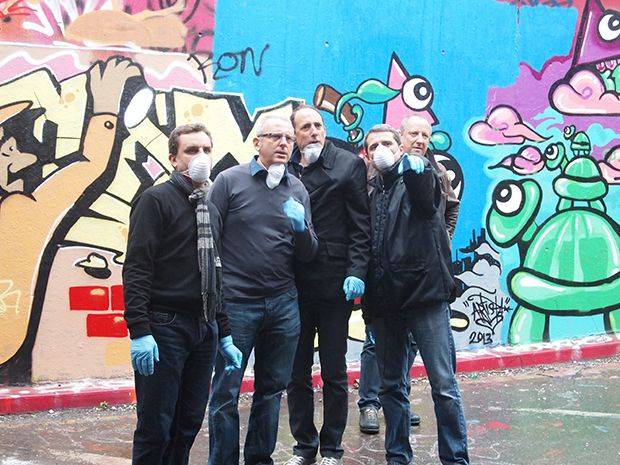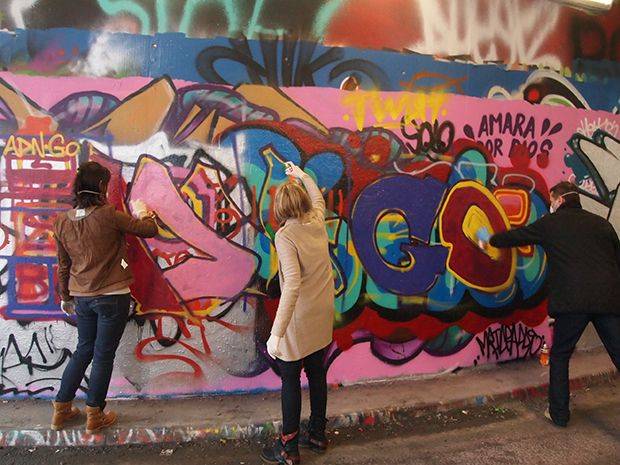 This workshop can take place in different London spots (privatize for your group or not). Therefore you can take your hands on and let's one imagination run wild on a wall in the heart of Bricklane, in an empty warehouse, in a tunnel or even a skatepark…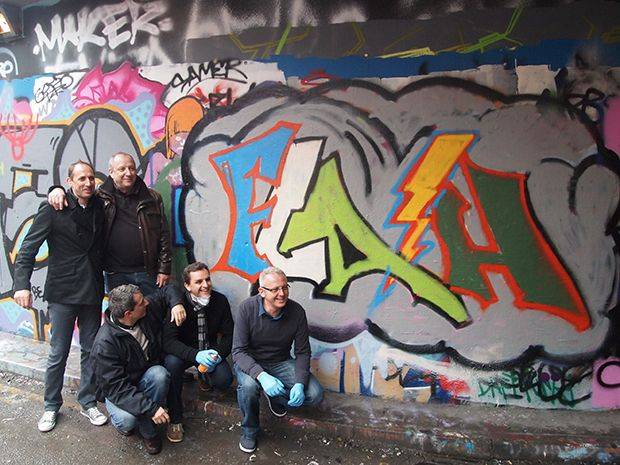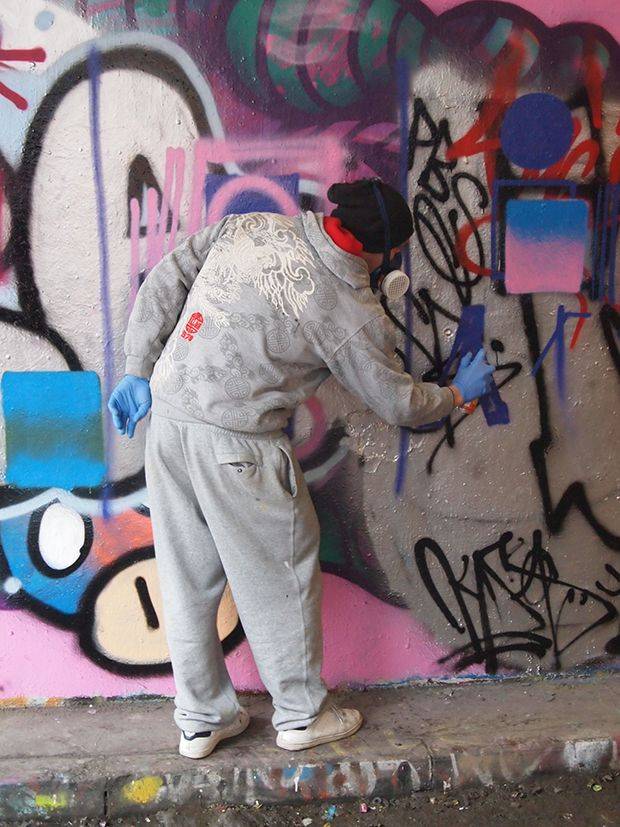 These extras can also be added to the activity:
disposable overalls
Photographer/ branded team photos
Event video
A glass of champagne to end the activity on a high note
And why not follow your experience by a street art guided tour? East London is a very artistic area in perpetual evolution. Each route is unique while always following the last trend. A nice way to (re)discover this area in a new way.
Client's recommendation for this team building:
Thank you for this lovely afternoon. The members of the direction committee enjoyed all these activities. It was intense but really worth it!  
C.B Banque Accord. 
*
Professionnals
, you too trust London incognito to organise your
team building and incentive activities
.